Good Evening, Currently there have been a total of three cases of COVID identified at the wrestle/cheer tournament. The students are isolated away from the main group with an adult. The decision has been made to cancel the remainder of the wrestling/cheerleading tournament. There will be no further activities taking place at the Unalakleet School this weekend. We are working to schedule travel for students, coaches, and visiting parents to return home tomorrow. We will send out the information as soon as it's finalized, and it will be posted on Google Calendar. We thank you for your understanding and patience. If you have any questions please don't hesitate to call me at (907) 625-1590. Respectfully, Kris Busk

Good Afternoon, This afternoon a student tested positive for COVID-19 at the wrestling/cheerleading tournament. The student has been removed from the school building and is currently isolating with family outside of the school. All teams are currently quarantining and separated from group contact until the results of NSHC testing efforts come back. Social tracing is currently being conducted. The following message was sent by the Unalakleet School administration a few moments ago: "Due to a positive case being identified, the elementary/wrestling cheerleading tournament is currently postponed until tomorrow. All teams will remain in their room. No spectators or visitors will be allowed to enter the school. The situation will be reevaluated tomorrow morning." If the tournament ends up being cancelled, all athletes and coaches returning to the village will be asked to quarantine until the results of a COVID test that is taken at site are returning. If you have any questions, please feel free to contact me on my cell phone at (907) 625-1590. Thank you for your understanding. Kris Busk




The 2021 Educators Rising National Conference took place June 24h - 27th, 2021. There were 22 students that competed from the State of Alaska. Fourteen of these students placed in the top ten of their fierce national competitions. We are thrilled to congratulate the Bering Strait School District on their student's performance! Aryana Ivanoff, from Frank A. Degnan High School, placed 1st in Inside Our Schools Earl Ivanoff, from Frank A. Degnan High School, placed 8th in Inside Our Schools Mary Arca, from Frank A. Degnan High School, placed 1st in Inside Our Schools Payton Gandee, from Paul F. Asicksik High School, placed 5th in Lesson Planning & Delivery: Humanities Educators Rising Alaska is proud of your student's performance, all the effort they put in, and their teachers (Giaana Peterson & Jessica Brabazon) who supported them. We are honored to highlight their accomplishments and the progress they have made. We are eager to see where their ambitions take them going forward and appreciate your support with the Educators Rising Program in your schools. Thank you for your time, we can't wait to work with your principals, teachers, and students in the future.

On Monday, May 10, 2021, the FDA approved the authorization of the Pfizer Vaccine for students aged 12-15, now allowing all individuals 12 and up to receive the COVID-19 Vaccine if they wish. The CDC formally approved the Pfizer Vaccine for 12 and up today as expected. This will begin to move us further towards our school reopening efforts for next year, as well as allow more communities to reach that 80% mark for further reopening of our region. Teams from NSHC will be put together Thursday, May 13 and be ready to begin administering shots on Friday, May 14, 2021. As stated before, I have approved teams from NSHC to come into the schools and provide shots as necessary. Attached are links to the Pfizer Vaccination Consent Form for parents and the EUA referenced on the form. If you would like for your child to receive the vaccination at the school, please complete this form and return it to your school office by Friday, May 14, 2021. The Bering Strait School District highly recommends all eligible students and community members get the vaccine to assist in our efforts of keeping all our students, staff, and communities safe. NSHC COVID19 Vaccination Consent Form:
https://5il.co/sm1x
Fact Sheet:
https://5il.co/sjnd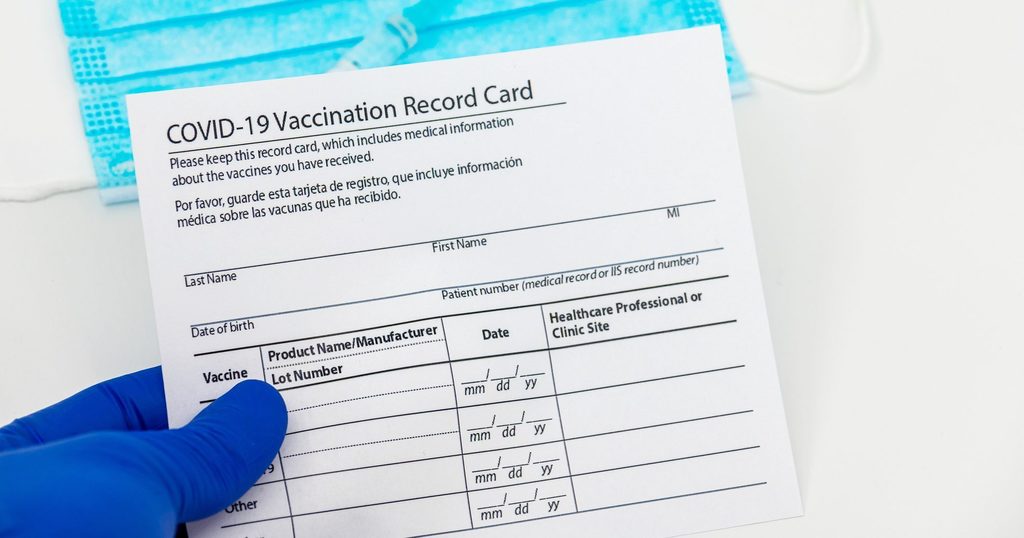 BSSD Graduation Dates The Bering Strait School District is excited to announce that we will be holding in person graduation ceremonies for the 2021 high school graduates. Check with your school to see capacity limits for graduation day!
https://www.bssd.org/page/graduation-dates

March Para of the Month This month, the Special Education Department would like to recognize the recipients of the Special Education Paraprofessional of the month. This month, we focused on honoring support staff demonstrating flexibility and adaptability in their everyday work ethic. Special Education who possess these traits are vital to our programs, and we thank them for all they do! Stebbins: Bridget Wongittilin Bridgette has a soft heart to the students most especially to special education students. She is gifted with long patience and initiative. She is sensitive to others' needs, and she responds to her students with care and a huge understanding. Bridgette is flexible and is happy to perform other functions whenever her service is needed. She maintains a happy disposition despite the challenges around her. She models a positive attitude by never giving up no matter how hard the situation can be. -Tukurngailnguq School Gambell: Orlin Booshu Orlin is amazing. He is flexible and is capable of working with any student and staff member on campus. I am so lucky that he is part of my team. He is also the vice-president of the village, so is very knowledgeable about the students and their families. Orlin is my right-hand guy who is willing to step in and help regardless of the situation. –Dolly Adams Wingfield, Special Educator Brevig Mission: Margaret LaBar Margaret is one of the most important reasons for the success that we have had this year with one of our students. She is ready and willing to offer advice and expertise. She also goes above and beyond each and every day to help all our students succeed! We rely on many personnel to serve all the minutes of our students. There have been many times that schedules changed suddenly or someone wasn't able to come to work at the last minute. Margaret has consistently offered to fill in on a moment's notice. I've never even had to ask! Thank you very much, Margaret!-Timothy Seibel, Special Educator Brevig Mission: Kevin Tocktoo Kevin is always adapting to the needs of the students he works with. When something isn't working in the classroom he talks to the general education teacher and the special education teacher. He explains challenges he is having, what he has tried, and asks for suggestions on other strategies he can use so that the students can be successful! -Cory Kralovetz, Special Educator Savoonga: Sabrina Toolie Sabrina is an exceptional paraprofessional serving grades 6-12 at Hogarth Kingeekuk Sr. School. Time and time again she has exemplified flexibility by always being willing to adjust to schedule changes that help best serve our students. She is also my go sub to fill in for me, whenever I can't be at school. I think adaptability is another strong ability that she shows on a daily basis. When a student is having a hard time learning, she uses her resources to find a new approach. When a student is showing difficult behavior, she adjusts her approach and persists until she sees the behaviors improve. She is a seriously dedicated educator that uses her best qualities to help our special education students. She is one of those paraprofessionals that we should all hope to see as a certified teacher, in the near future. –Nick Czelusniak, Special Educator

Congratulations Lady Shishmaref Northern Lights State 1A Basketball Runner-up!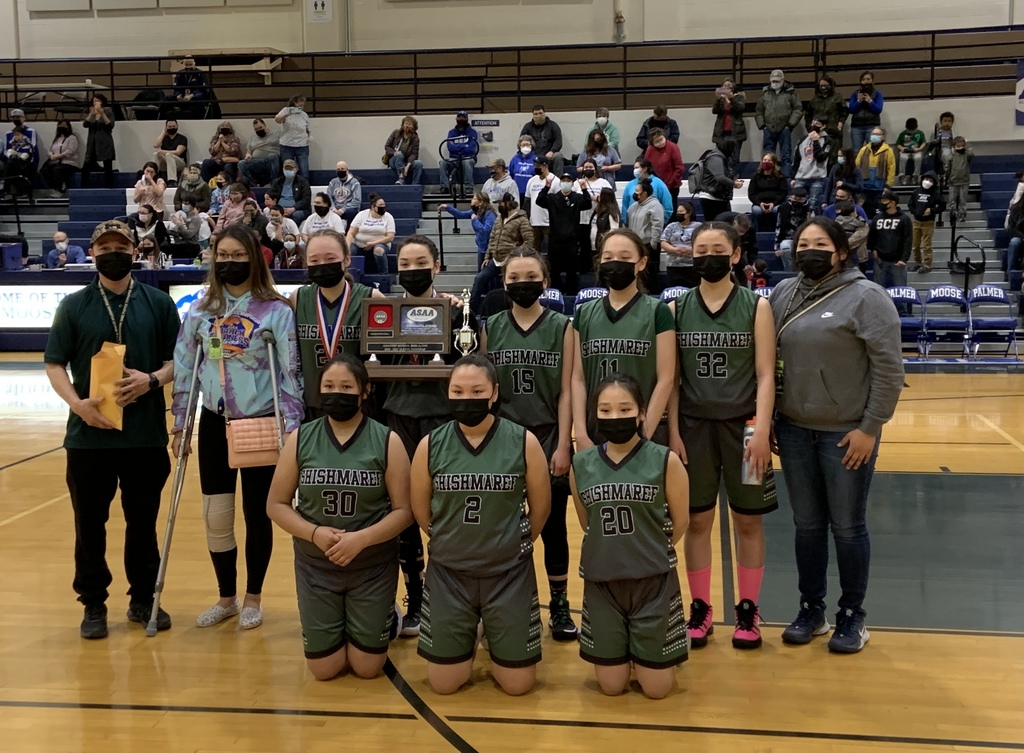 Congratulations. Nelson Wagihyi-Rookok of Hogarth Kingeekuk Sr. Memorial School in Savoonga, Alaska was chosen as a recipient of the National "Yes, I Can!" Awards and was recently recognized at the Council for Exceptional Children National Conference. Nelson is the recipient of the Arts category for his exceptional ability of expressing himself through native dance. Well done, Nelson! YES, I CAN! Bering Strait School District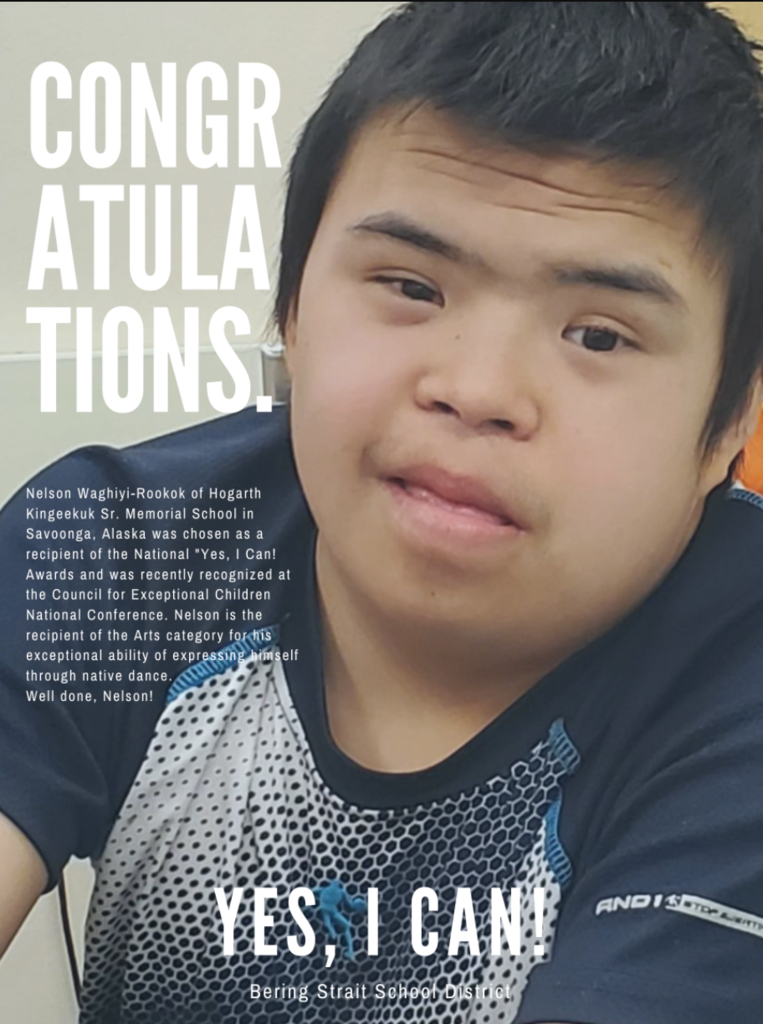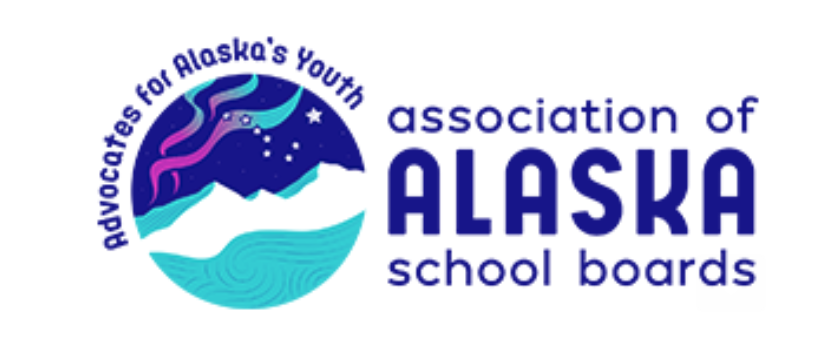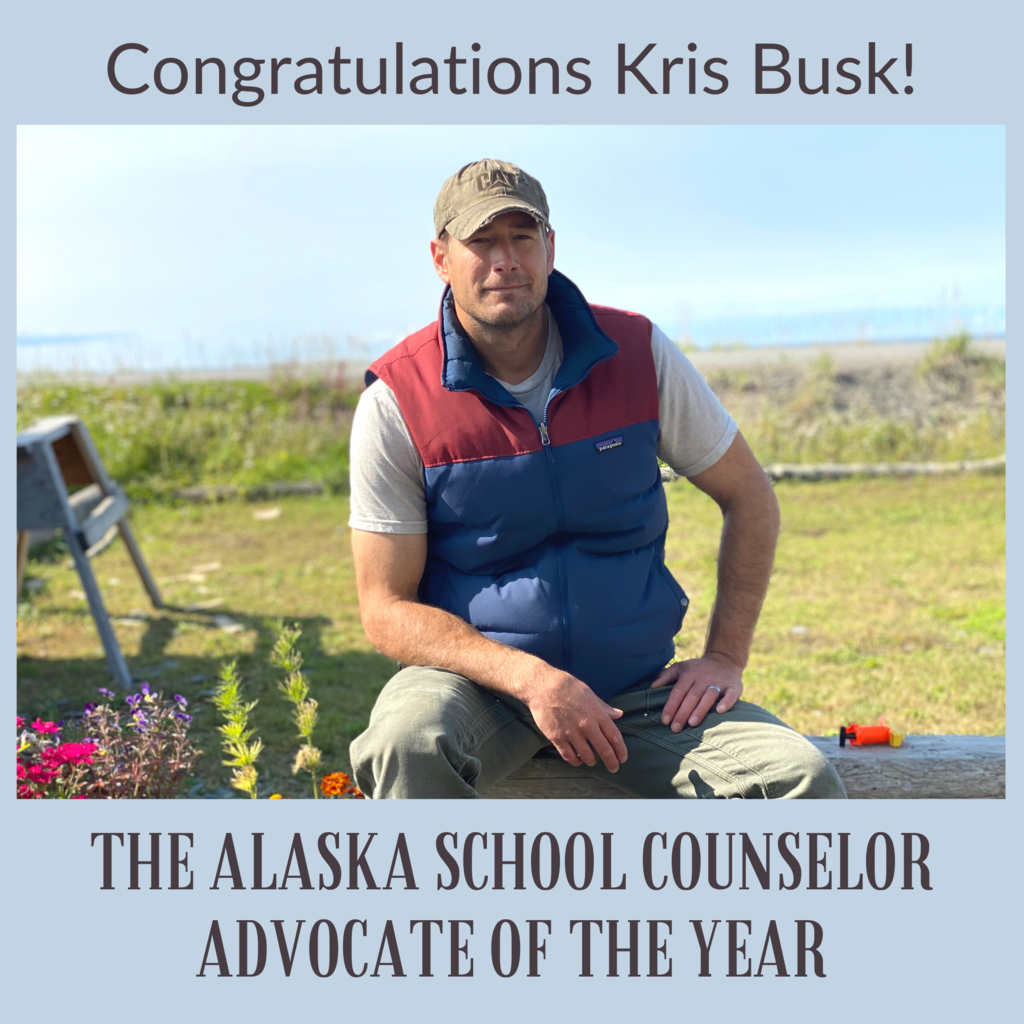 Senior Alaina Pete of Brevig Mission signed her Letter of Intent to wrestle for Umpqua Community College. Congratulations to Alaina and her parents!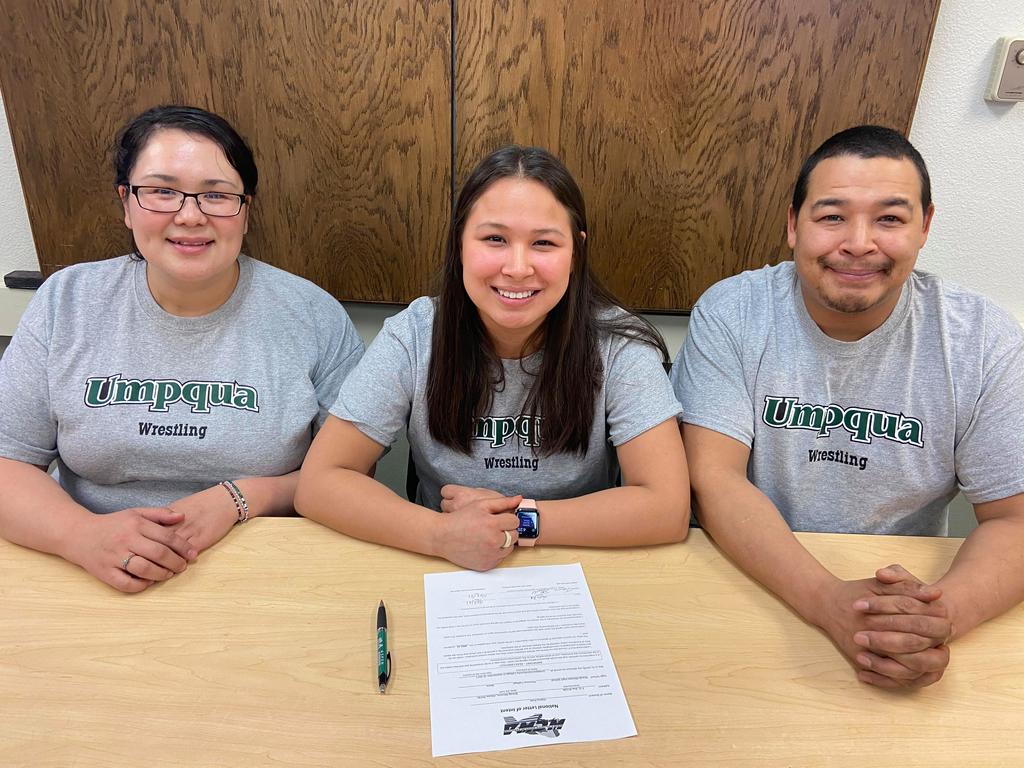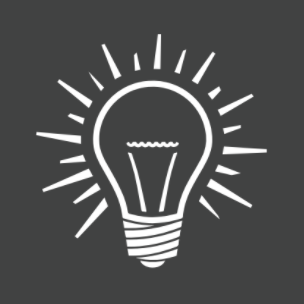 Bering Strait Exploration & Application Event Thursday, February 11, 1:30-2:30 PM Zoom Event: tinyurl.com/BSSDWelcome High school seniors and regional adult learners: meet with Alaska College and Tech School admissions representatives. Receive assistance with admissions, applications, and college planning steps. Please come prepared! Have your social security number and personal email address ready! For more information of questions about the event:
nwc.advising@alaska.edu
or 1-907-443-8416

Public Notice: Bering Strait School District Board Meeting The Bering Strait School District Board of Education is scheduled to meet on Thursday, February 4, 2021, for the 227th Regular Session at 9:00 AM Join the Zoom meeting:
https://zoom.us/j/96582132300?pwd=UUxybjZWbGtWSE9IM1Q4aTVScFdodz09
Meeting ID: 965 8213 2300 Passcode: 952886 Call-in Numbers: 877-853-5247 US Toll-Free: 888-788-0099 ACTION ITEMS: FY22 Bilingual/ Bicultural Staffing Proposals FY22 Classified Staffing Proposals FY22 AP Proposal in KTS FY22 Special Education Teacher Proposal FY22 Certified Staffing Proposals Classified Step Adjustment Proposal FY22 District Calendar Basketball Season Proposal FY22 CIP 6-Year Plan FY21 Fuel Bid FY22 AHFC Priorities Day Tank/ Bulk Fuel Tank Painting AHFC Grant Koyuk Housing Renovations and Repairs Policy Adoption Section 4000 Policy Adoption Section 5000 ANEED Grant Executive Session-Superintendent Evaluation REPORTS: NACTEC 2nd Quarter Financial Curriculum & Instruction Cultural Classified Manual Superintendent's PUBLIC COMMENTS


The Alaska Association for Career and Technical Education (AK ACTE) has recognized the Bering Straits School District CTE Program for manufacturing Personal Protective Equipment for regional health care responders and providers, and seafood industry workers with the Community Service Award.